In situ wave watching? NO.
Blissful matrimony? RUINED.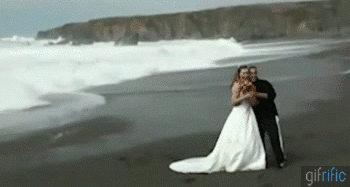 Engagement you'll never forget? NAILED IT.
Yoga? I THINK NOT.
Try to appease my wrath? YOUR OFFERING IS INADEQUATE.
Skim boarding without appropriate attire? DON'T EVEN TRY.
Casual jog along the sea wall? YOU'D BETTER RUN.
AND NO BIKE RIDING EITHER.
Try and take my picture? I HATE PAPARAZZI.
Try to fool me with a selfie stick? I ABHOR THEM.