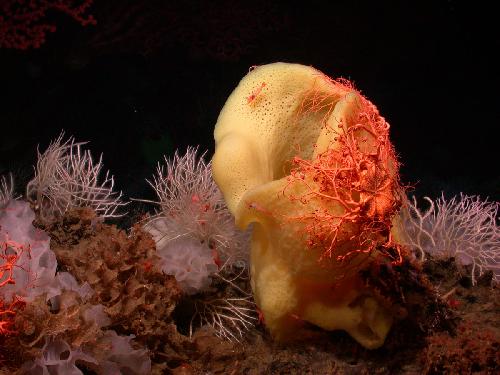 Yellow sponge (Staurocalyptus sp. nov.), basket star (Gorgonocephalus sp.), white ruffle sponge (Farrea occa), and white-branched sponge (Asbestopluma sp. nov.) on the Davidson Seamount at 1316 meters.
The Monterey Bay National Marine Sanctuary will be a little bigger in the near future. Speaking at the Smithsonian's new Ocean Hall exhibit on Friday, President Bush vowed to proceed with the long-awaited expansion of the sanctuary to include Davidson Seamount.
The is a really exciting time for me as much of my recent research involves characterizing the biological communities and ecological processes at Davidson. Davidson rises 2500m off the seafloor with its summit still 1250m below the ocean's surface. The seamount is one of the largest in U.S. territorial waters and the first topographic feature to be named a seamount.
Davidson is a wonderful place with relatively pristine communities dominated by fields of corals and groves of sponges. You can visit the MBNMS site for tons of images or read up about the research and monitoring projects occuring here (including mine). Below the fold is a Youtube video that describes Davidson Seamount further.