by Kevin Zelnio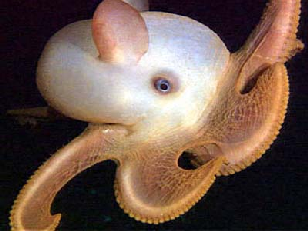 Whoever said that Dumbo the Flying Elephant wasn't real?? He was actually an octopus not an elephant. Dumbo octopuses (Grimpoteuthis sp. shown above) elegantly glide along the seafloor eating snails and worms. According to MBARI:
"Grimpoteuthis swim by moving their fins, pulsing their webbed arms, pushing water through their funnel for jet propulsion, or all three at once. They can swim up off the bottom and hover a bit just above the seafloor looking for snails, worms, and other food."
Dumbo octopuses comprise of more than just Grimpoteuthis, the fins sprouting out from the head region and webbed tentacles are characteristic of a few other genera. They can reach up to 1.5 meters long, but are often very small, fitting in the palm of your hand. Ok, all together now: Awwwwwwwwwwwwwwwww! So Cute!