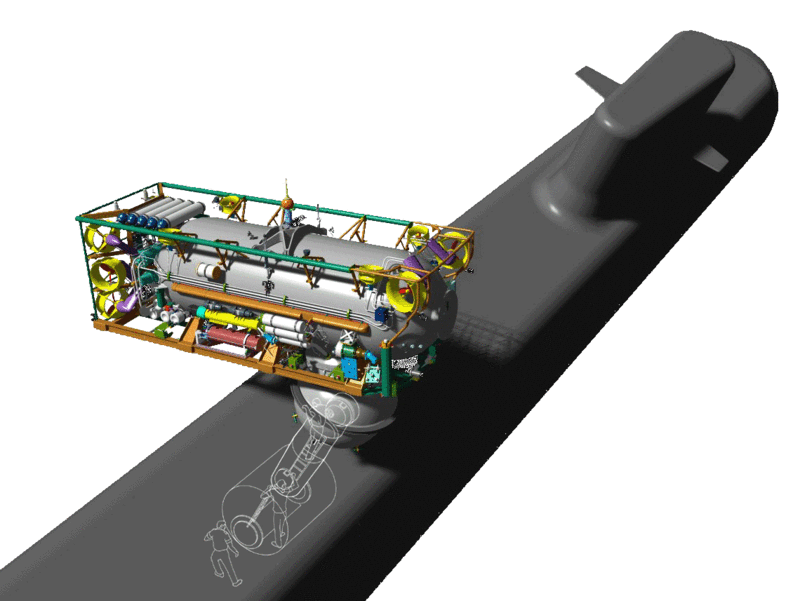 In brand spankin' new and cool technology news…
The Navy just replaced the Deep Submergence Rescue Vehicle (DSRV) program as the primary deep-sea rescue asset with the Submarine Rescue Diving and
Recompression System (SRDRS). The DSRV's were developed
as a result of the sinking of the USS TRESHER in April 1963 (the 13th
submarine of the Navy lost in peacetime), when all hands (129 men) were
lost. After the accident of USS TRESHER the Navy founded the Deep Submergence Systems Review Group
(DSSRG). This group found out that the Navy had no possibility to
rescue sailors located deeper than 330 meters below the water because
this was the maximum range of the McCann – rescue bell. This bell was
first used in 1933 when 33 sailors were rescued out of the submarine
U

SS SQUALUS in a depth of 73 meters. The group also found out that the
Navy had only primitive means to locate sunken objects and that the
salvage of those objects would almost be impossible.
Out of this came two vehicles, DSRV 1 Mystic and DSRV 2 Avalon. There is a great history of the program and vehicles here. The SRDRS adds two important capabilities to the Navy's deep rescue program. First, the SRDRS is air-transportable and can be deployed off any qualified commercial vessel. Second, the vehicle permits a pressurized and decompressed transfer of Sailors
rescued from pressurized submarines.
Also on the wires is news of a new MIT autonomous underwater vehicle (AUV), Odyessy IV, that can hover in place while it examines or interacts with objects. A capability not present in other AUV's