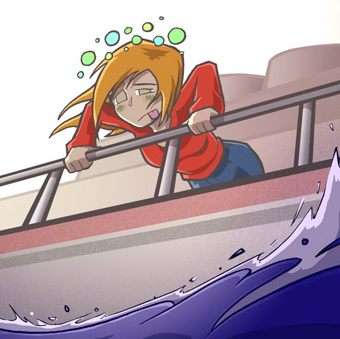 Whenever I give public talks, the number one question I get asked is "Do you ever get seasick?" People are usually surprised when the answer is "OMG YES." I get seasick Dr. Seuss style – on a boat, on a float, here and there, everywhere. My family, who are all prone to barfage, think I am completely insane for subjecting myself to this voluntarily. (The Goldstein family whale watch of 1990 was NOT a success.)
But since going to sea is glorious and wonderful and totally worth the cookie-tossing, I've developed some methods to deal with it. And I will share them with you, beloved readers, for the low low cost of your love & admiration.
Seasickness Prevention

Make your stomach as neutral as possible. Acidic substances will make seasickness very hard to control. I don't drink either coffee or orange juice the day before going to sea, or while at sea (and I usually ADORE my morning cup). You'll want to avoid spicy and heavy foods as well – put down that burrito!
Stay on deck. The horizon and the fresh air are your best friends. Going to lie down below, or crouching over the toilet, will make everything worse. Also, I promise you, barfing into the ocean is far more pleasant than barfing in the tiny miserable head. With time, you will grow to enjoy barfing in the cool fresh air. Just remember that safety is paramount – make sure that you have a friend to grab the back of your PFD if you need to lean over the rail. This is REALLY REALLY important if you're on a research vessel with relatively low rails & a fantail. Falling overboard while vomiting and then dying a slow slow death floating all alone in the ocean is NOT the way you want to go.
Maintain a cheery mental state as much as possible. After barfing all over the world, I am convinced that about half of seasickness is psychological. Many people get sick, but for 95% of them it passes after a day or two. If you are miserably dreading getting sick and hating life once you get sick, it will be worse. If you accept that yes, you will feel sick for a while, but then you'll be having an awesome time at sea, it won't be as bad. Stare at the horizon, relax, and breath deeply. Look for birds and whales and mola-mola (without binoculars-binos make it worse). Enjoy being out at sea as much as you can.
Medications and Other Products
I am not a doctor. I am not even a doctor of oceanography (yet!). All of the below advice is my personal opinion, and you should not do anything without consulting your own Doctor of People Medicine.
Ginger. Ginger (in pills or chewable tablets or in crystallized candy form) does help with mild nausea in my experience. It won't help people who are really prone to sickness, but it will help borderline cases. Also it's tasty and has no side effects, so what's the harm? (Actually, the harm is that after barfing up lots of ginger, you'll grow to hate ginger. Don't ask me how I know.)
Wristband Thingies. It's my opinion that those elastic wristbands that apply pressure with little tablets are purely psychological. They've never worked for me. BUT – since half of seasickness is psychological – if you think they'll work they very well might. Since they're cheap and have no side effects other than weird marks on your wrists, give them a try.
Over-the-counter drugs. These work for mild to moderate seasickness, but not for serious seasickness. They will all make you sleepy, and you should use caution while diving or operating a boat or machinery while taking them. It's my opinion that Bonine is better than Dramamine, but frankly none of them do much for me and I haven't used them in years.
The scopolomine patch (Transderm-Scop). This is a little sticky patch, prescription only, that is applied behind the ear. I highly recommend it – in reasonable conditions I felt fine, and in nasty conditions I felt a little queasy but did not throw up. It does have noticeable side effects, mostly nasty dry mouth and weird dreams. You must also be very careful to not transfer any bits from the patch to your eyes. Each patch lasts for 3 days, but if you're going to be out at sea for a shorter time, DO NOT cut the patch in half! This will sever the little mesh that delivers the medicine, and it will dump a whole bunch in your system at once, and you will be sorry.  If you want to try the patch, use one for a couple days on land to see if you can stand the side effects.
Scopolomine pills (Sco-Pace). This is the same active ingrediant as the patch, but in pill form. It is not usually stocked at pharmacies, but you can order it (with a Rx) from drugstore.com. In my opinion it is not as effective as the patch, but since each pill only lasts for 12 hours, it is more useful for day trips. It can also be good for smaller people for whom the patch delivers too much dosage. Unfortunately after years of intensive patch use I have developed a sensitivity to the adhesive, so the scopolomine pill is now my default barfage control method (along with no coffee & staring at the horizon in the fresh air).
Promethazine. This is a super hard-core anti-nausea prescription medication. It works really, really well, but it will also knock you right out. I keep this for storms, when I just need to sleep through the sickness. But in my experience it's not that useful if you have to work or if you want to actually be awake to fish or dive or have fun.
Add your own seasickness suggestions below! I am always really happy to hear about other people's strategies.