I was going to do a "demons of the deep" post for Halloween but as I was considering which animals to include I had to stop and ask myself what this was really all about and it took me in a slightly different direction, viz:
Consider the viper fish with its capacious maw and manifold needle teeth
Or the deep sea angler, a shapeless blob except for a massive tooth-filled mouth and tiny beady eyes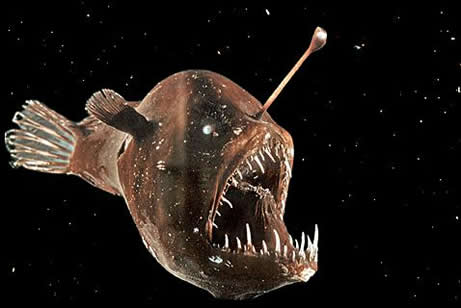 Or the stoplight loosejaw, with a truly massive dislocatable jaw, teeth in its throat and "night vision" light organs that illuminate hapless victims unable to see the wavelength they emit.
All of these fish hail from that vast, cold, crushing, silent perpetual night that is the abyssal depths of the ocean.  They are creepy, there's no doubt about it: black, flabby, toothy and generally unpleasant looking.  But why is it that?  They are just fish like any others, supremely well-adapted to their habitat in fact, and utterly harmless to humans.  A loosejaw presents no more threat to me than does a bubble-eyed goldfish.  Indeed, 99.999% of people will never even see one.  But that visceral response is undeniable – they just LOOK creepy and dangerous, so what's going on?
I don't think anyone has studied this phenomenon for fish, at least not that I can find, but psychologists HAVE studied why people have similar visceral responses to spiders, snakes and other creepy crawly things.   It seems that humans are hard wired to fear angularity and dark colours, combined with unpredictable movements.  Sometimes just one of these properties is enough, like the stereotypical response of those afraid of mice to their scurrying movements – to jump up on a chair – but this is not always the case.  Frogs, for example, move in every bit as unpredictable a way as spiders, but because they are rounded, with big eyes and pleasantly coloured/patterned skin, they are seemingly forgiven.  If an animal happens to have all three properties, then it's prime phobia-fodder.  By way of evidence, I offer the following two spiders:
The redback on the right has the unholy trinity – angularity, dark contrasty colours and unpredictable movements.  The jumping spider on the left however, almost looks cute, with his gentle lines, mild green colour and big doe eyes.  So when people say they are afraid of spiders, what they really mean is that they're afraid of redbacks and their ilk; plenty of spiders are perfectly innocuous.  Indeed, they are not afraid of spiders per se, they are actually afraid of the apparent angularity, darkness and unpredictability of the redback.  There is an important difference though.  Both the redback and the jumping spider are ruthless predators of insects, but only the redback is dangerous to people, so maybe natural selection was onto something when it hard wired these responses in our brains.
What about the deep sea fish though?  Surely we can't have evolved to react the same to them as we do to spiders?  Unless you have a million dollar submersible, you'll never even encounter one, and if you did it almost certainly wouldn't hurt you.  The only thing I can think of is that they just got caught up in the evolutionary cross-fire, so to speak.  Their adaptations to deep sea life – dark skin, angular jaws, pointy teeth – just happen to trigger in us hard-wired responses meant to serve a totally different purpose: keeping us safe from those terrestrial critters who can in fact, do us harm.
So, this Halloween,  instead of vilifying a gallery of deep sea critters with no more control over their colour and shape than we do, I, for one, am going to strive to look instead at the beauty in deep sea fishes that comes from the perfection of form for its evolved function.  I just wish I could get rid of my dopey looking goldfish now, and replace it with a nice gulper eel or viper fish.