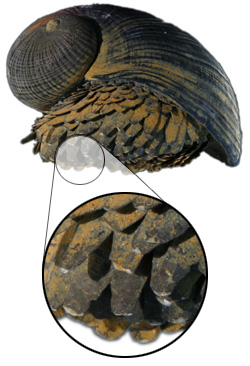 #4 Gold-Footed or Scaly Foot Snail (Phylum Mollusca, Class Gastropoda, Order Neomphalina, tentatively Crysomallon squamiferum)
Hydrothermal vents possess a molluscan fauna that is both unique and fascinating. This fauna includes over 30 limpet species and several newly described species of gastropods. A gastropod first described in 2003 may be the most interesting find thus far at a hydrothermal vent. I admit my bias here, as most of my interest lies with studying deep-sea gastropods. Nonetheless, the discovery of 'gold-footed" snails a the Kairei vent field in the the Indian Ocean is fascinating (Waren et al. 2003, Science, also see McClain 2005, American Conchologist)
At this point I should state that the foot of the snail is mineralized with pyrite and greigite. Many of you might note the misnomer here, as pyrite is only 'Fool's Gold,' but in deciding on a temporary common name Fool's Gold-Footed Snail seemed a bit lengthy. I hope all will forgive the intentional misonomer for the sake of creative writing.
The scales, or sclerites, that cover the entire length of the snail's foot can be up to 8mm long. The presence of mineralized scales is remarkable in itself, but the existence of iron sulfide as skeletal material is unknown from any other animal. The purity of sulfides, among other lines of evidence, suggest that the building of the scales is controlled by the gastropod itself. The sclerites are thought to have evolved recently and be homologous to the operculum. It is thought they may serve as a defense against cone shells also occurring at the vent. – CRM
Share the post "The 27 Best Deep-Sea Species: #4 Gold-Footed or Scaly Foot Snail"